MICA Digital Experience

MICA Enrollment
UX | Spring 2019
Many MICA students including myself have struggled with our enrollment system finding it outdated and difficult to navigate. We decided to explore ways to improve our system and make this easier for students through creating personas, wireframing, and user testing.
Collaboration with Jaeyoung Cheong
Test out our prototype at:
https://bit.ly/2PkVvxL
Programs used: Figma


The Current
MICA's current enrollment system felt very outdated and was a struggle for most students. It was a complicated process that left most students dissastisfied and frustrated.





Personas + WireframesWe created personas to help us figure out the user needs and create wireframes and sketches for how we wanted to improve the experience. From talking to students we found that the specific process of finding classes and figuring out how it would best fit into their schedule was the biggest hurdle in terms of enrolling. Because there are so many classes its difficult to find the best fit and keep track of all your requirements at the same time. We were also able to do usability testing with a couple students to test out our prototype.




User Flow
We narrowed down the focus of this process to 4 major actions. Users can search and filter their classes by subject, date, and time. We added more specific information about each class such as syllabus, past student's work, and general feedback from class evaluations that students are required to do at the end of every semester.


High Fidelity Mockups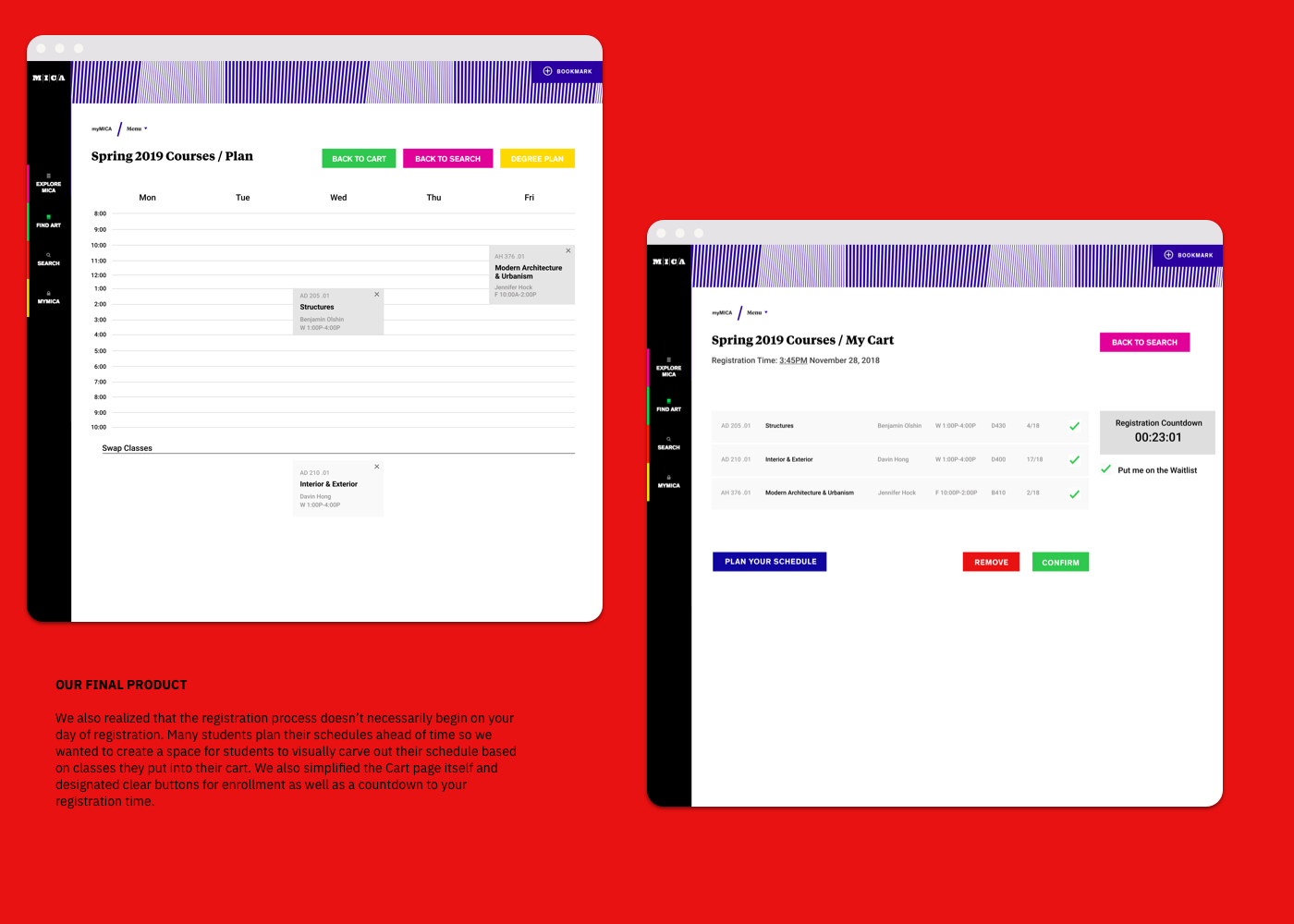 ---

MICA Clubs & Activities
UX | Spring 2019

Test out my prototype : https://bit.ly/2DdSkDN

Redesigning the experience for new students to browse, search, and propose new student organizations at MICA.

Research


The current system was a mix of print and digital forms and gave minimal information about each club. In terms of browsing different organizations, there's not much the website offers besides a simple list. The application process was a physical form that needed to be handed in at the Student Organization Office. I felt that MICA could offer a system that offered more current information such as upcoming meetings, pictures of events, some sort of account page to keep track of what organizations you're apart of, and have some sort of message board for club officers to reach out to members. The application process could be a lot more simple and should probably be moved entirely to digital for accessibility.




Final Screens